Oona's Sewing Spotlight
Wowowow! This is one of the first versions of Nicola I've seen, and what an awesome dress! The fabric has such a beautiful vintage vibe, which I think goes great with this style.
Oona
rocks this style, and was kind enough to share her amazing fabric finds, in case you are craving blushy mauve tones with pretty golden flecks. I know I am!
How long have you been sewing, and would you describe yourself as a novice, beginner, intermediate, or advanced seamstress?
I truly began in the summer of 2007. That seems way too short for this obsession of mine! I feel that every time I think of myself as advanced, and I mean EVERY time, the second I think it, I manage to royally screw something up. So let's go for intermediate. There is always something to learn! Hopefully, that will keep me from ruining the boucle currently on my ironing board...
What type of fabric did you use for this creation? Is there a type of fabric that would have been more suitable?
I'd love to tell you, and would tell you, but my listening skills disintegrate rapidly whenever I am around beautiful fabric. This lovely yardage was hanging out with some gorgeous velvets in the back of Mood's LA locale. I've named it everything from burnout to laser cut to a chiffon-velvet-and-gold lovechild. The gold bits are indeed metallic threads, and the velvet patches are quite thick and soft. I think it worked well with this (awesomesauce) pattern. I interlined it with a smooth satiny material to weigh it down a bit and keep the peep show to a minimum, but I left the sleeves sheer.
Did you make any personal adjustments to the pattern to make it your own?
Well, as usual, I didn't make a muslin and blithely cut away. I found the bodice wasn't covering the itty bitties as much as it should have...my bad! I took one of the darts out on each side of the bodice, closest to center front; then I did away with one pleat on each side of the skirt so it would match up. Next up on the Should Have Made A Muslin playlist, I realized the hem was too long. I had already finished the curved seam of the skirt since I was using a delicate material. So... egads: I hacked an inch off of skirt waist to raise the hem! Kristiann, your patterns are obviously indestructible. Lastly, and these are the only kosher changes I made in terms of making it my own, I used a gold open weave ribbon to enclose sleeve edges, and "pegged" the skirt at side seams, tapering in 3 inches up to mid hip level, to accentuate my curves a bit more.
Where do you wear this piece?
Nowhere yet, as we've been sunk in moving boxes, but that will soon change. Oh, yes indeedy. I'm dying to wear it to any of our favorite jazz clubs here in the city. This dress needs a cocktail and a room filled with music! But I could also see wearing it over jeans with multiple layers of necklaces to make it more casual.
Would you care to share your personal blog post on this dress?
My love affair with this fairy dust dress has been documented on both my blog,
Oonaballoona
, and on the
Mood Sewing Network
. This fantastic fabric, and Kristiann's gorgeous pattern, was my choice for my
September Mood make
! You'll be seeing more of Victory on my blog for sure, I've been poring over fabrics for the Simone dress... decisions, decisions... thanks Kristiann for the delicious decisions!
Thanks for sharing your gorgeous dress and for telling us about Mood, Oona
!
_
YOU MAY LIKE:
Leave a comment
Comments will be approved before showing up.
---
Also in The Victory Patterns Blog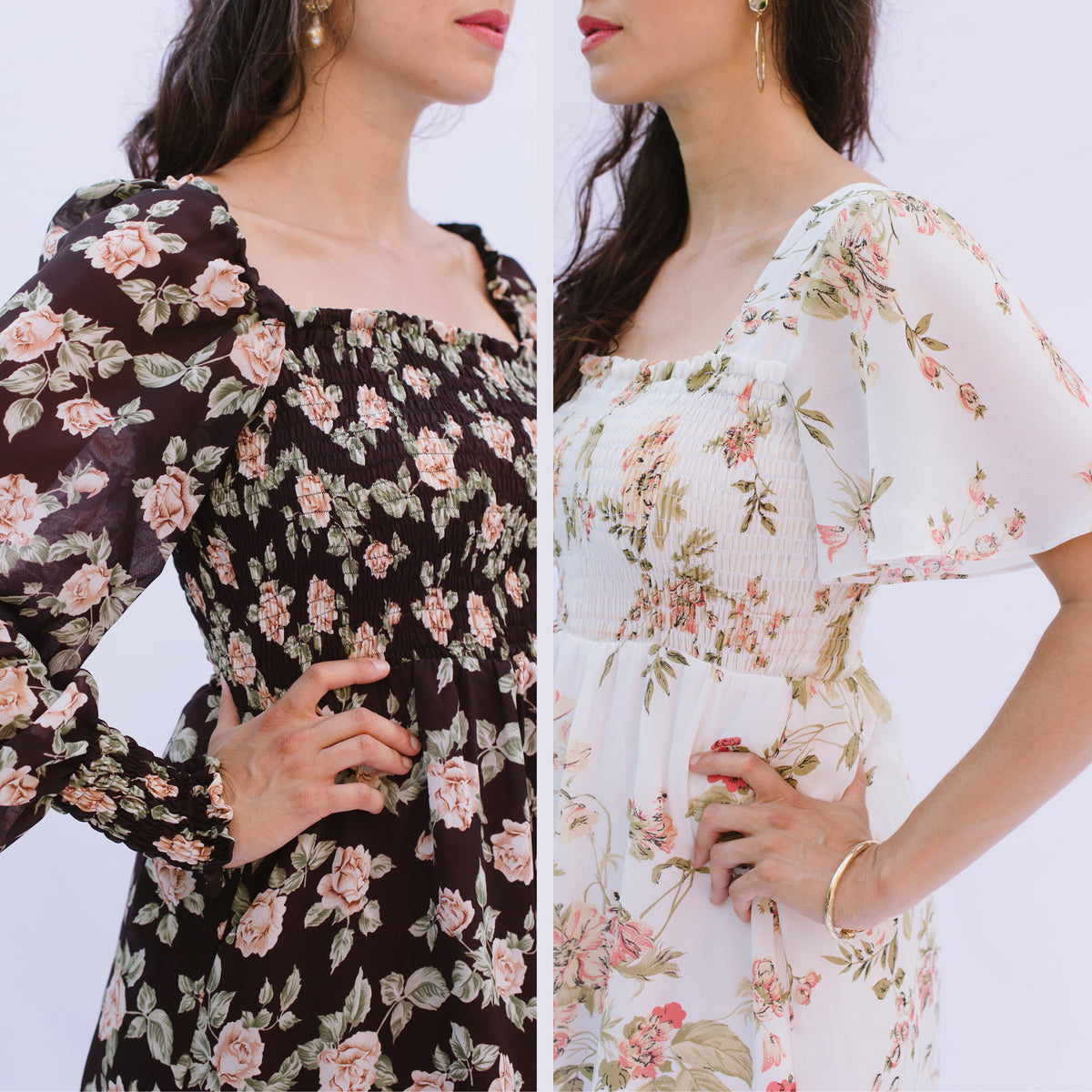 In this post, we'll discuss how to pair any of the sleeves from the Sofia pattern with the strap from this Bell sleeve. This is a popular pattern modification to give extra bra strap coverage.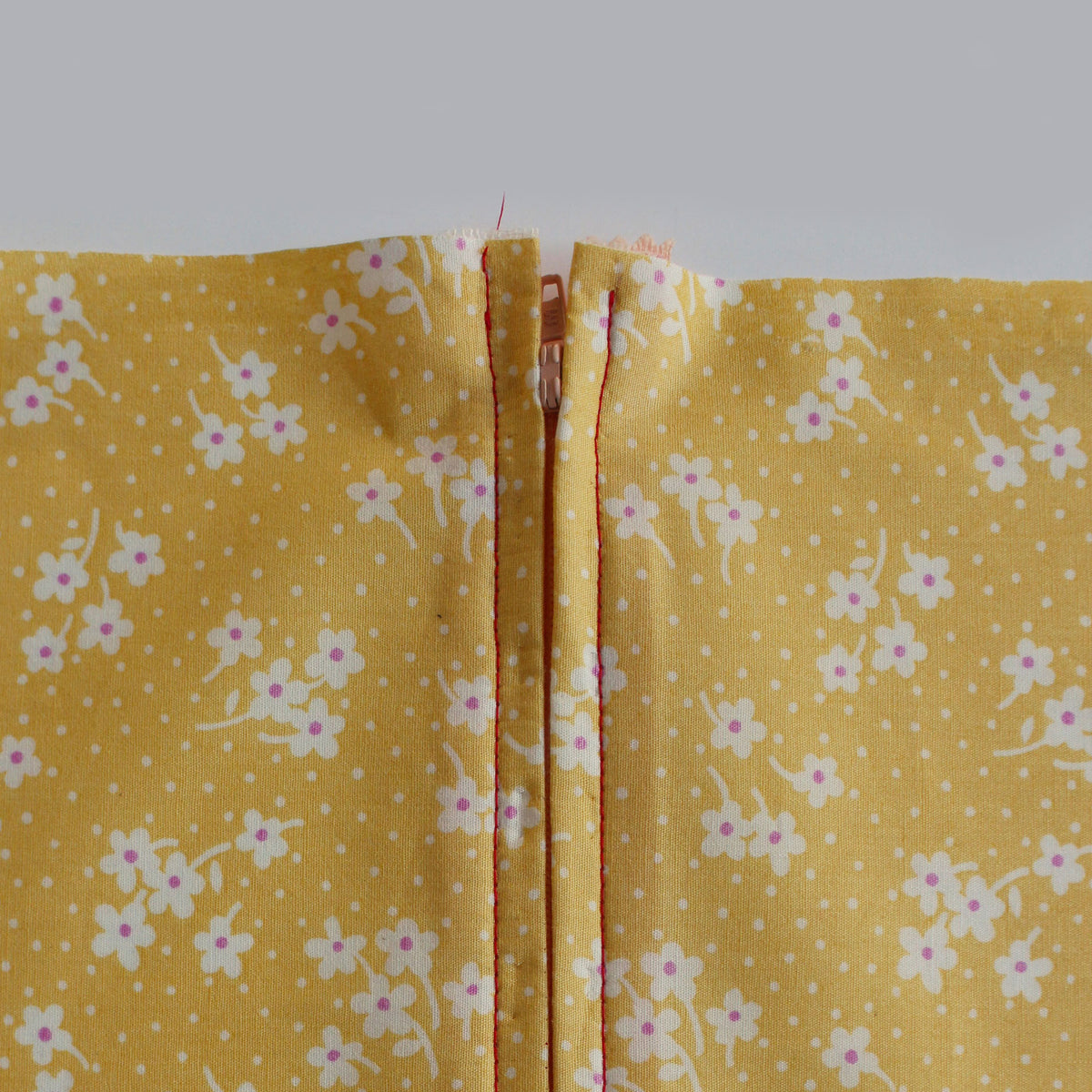 A centered zipper is one of the most usefull zippers to be able to sew. They are commonly used in skirts, dresses, and pants, as well as cushion covers and handbags. In this tutorial, we'll show you how to sew a centered zipper using directional sewing, which avoids the fabric from shifting in different directions once the zipper is sewn in. 
Last week I released the Rowena pattern and I wanted to pull together some inspiration and fabric resources to get your wheels for this project.