Introducing Sofia
I can't tell you how excited I am to introduce our newest pattern, Sofia; This is the first pattern in our new size range, and that part right there is what fills me with joy! I'm thrilled to be able to offer this pattern to more women and take steps towards more inclusive sizing.

So without further adieu, let me introduce you to Sofia!
This design came to life last summer when my friend announced that she was getting married very last minute - shortly before my own wedding where a sewing frenzy was already in full swing, eeek! The wedding was to be in Paris (!!!), and I was going to be a bridesmaid. I had to make fast plans! Thank goodness she's low key (I mean, aside from the Paris part), and she let me wear whatever I wanted.
Despite being 50 yards deep in silk from my wedding dress, I wanted to make something to honor her special day. Is that crazy or stupid? Anyway, I had to throw something together really quickly, and wanted it to be just as lovely as it was comfortable. So from my panic, Sofia was born! 
While prancing through Paris, I fell in love with my dress, and since then, I've had a chance to play with this design and realized just how versatile and flexible it is. I've added design elements to make it stretch in your wardrobe!

I'll dig into the details in a moment, but if you'd like to hop over to the shop page, let me say that to celebrate the launch, Sofia is 20% off now through Friday (July 24th, Midnight, EST). The discount will be automatically added at the checkout. Grab your Sofia pattern in your chosen size range here.
Pattern Features:
The shirred bodice is the highlight of this garment. This technique uses an elastic bobbin thread that creates a beautiful texture and elasticizes the fabric. If you've been eying up this technique and never known quite how to do it, the pattern includes a detailed guide on how to sew shirring. I can almost promise you that you'll be wanting to sew shirring on everything soon enough! 
Sofia offers so many style options that you can mix and match. There are three body options and four sleeve options, which allows you to mix and match these pieces to create many style options. Let's dig a little deeper into these mix and match options.

Dress version:
The dress version features a waist-length bodice and a full A-line skirt that gathers at the waist with a line of shirring. You have the choice of adding optional pockets and lining and pairing this dress style with any sleeve options. I've been wearing my Sofia dresses all summer long as we've been staying at home. I love it for those days where I've wanted something comfortable to wear but needed a little stylish "pick-me-up"!
From the sewing community: Gillian from Crafting a Rainbow in her Sofia dress with bell sleeves.
The Sofia dress with bishop sleeves 
Crop and peplum top versions:
The crop top has a small ruffled hem and looks great paired with your favorite high waisted skirt or jeans. The peplum blouse offers a longer hem.
 Sofia crop top with bell sleeves
From the Sewing Community: Leanne from Thready For It in her peplum bodice with cap sleeves.
Sleeve options:
Let's take a look at the sleeve options. There are four styles to choose from: a cap and elbow-length puff sleeve with a ruffle hem, a bishop sleeve with several rows of shirring at the wrist. These three options feature an elasticized shoulder that creates a romantic square neckline. The final sleeve option is a bias-cut bell sleeve that is accompanied by a shoulder strap, designed to ensure coverage of bra straps.
Bell sleeve with a shoulder strap paired with the peplum top.
Bishop sleeves with the elasticized shoulder
Elbow length sleeves paired with the dress
Cap length sleeve paired with the peplum top
Sizing and Format:
Sofia comes in two size ranges; Choose between size 0-18 and 14-30. 
For more information on our new size range, check out this blog post which goes into more detail.
The pattern is available as a PDF, and each pattern component is separated into single files, allowing you to print just what you need.
Fit:
Since the shirred bodice has a high percentage of stretch (50%), the fit of this pattern is flexible and comfortable. The most crucial fit point is the bust and shoulder area, making sure that the sleeves are set onto the shoulder. You'll want to focus on your bust measurement when selecting a size. The skirt is free at the hip, which allows for generous fit in that are.
Sewing Level:
The pattern is rated as an intermediate pattern. As with any project, this is just a suggestion, and I would encourage anyone who isn't at this sewing level to take on this project if you're feeling like learning a new skill. The pattern includes a very comprehensive guide on how to sew shirring, and in the following days and weeks, I'll be posting more information on how to be successful with sewing this technique.
Other techniques used in the pattern are elastic insertion, gathering, in-seam pockets, edge stitching, topstitching, understitching, sleeve insertion, and hemming
Thanks for taking a look at Sofia with me. I'll be posting a sewalong shortly for the various versions, so stay tuned. 
Don't forget, Sofia is 20% off now until Friday (July 24th, Midnight, EST). The discount will be automatically added at the checkout.
Leave a comment
Comments will be approved before showing up.
---
Also in The Victory Patterns Blog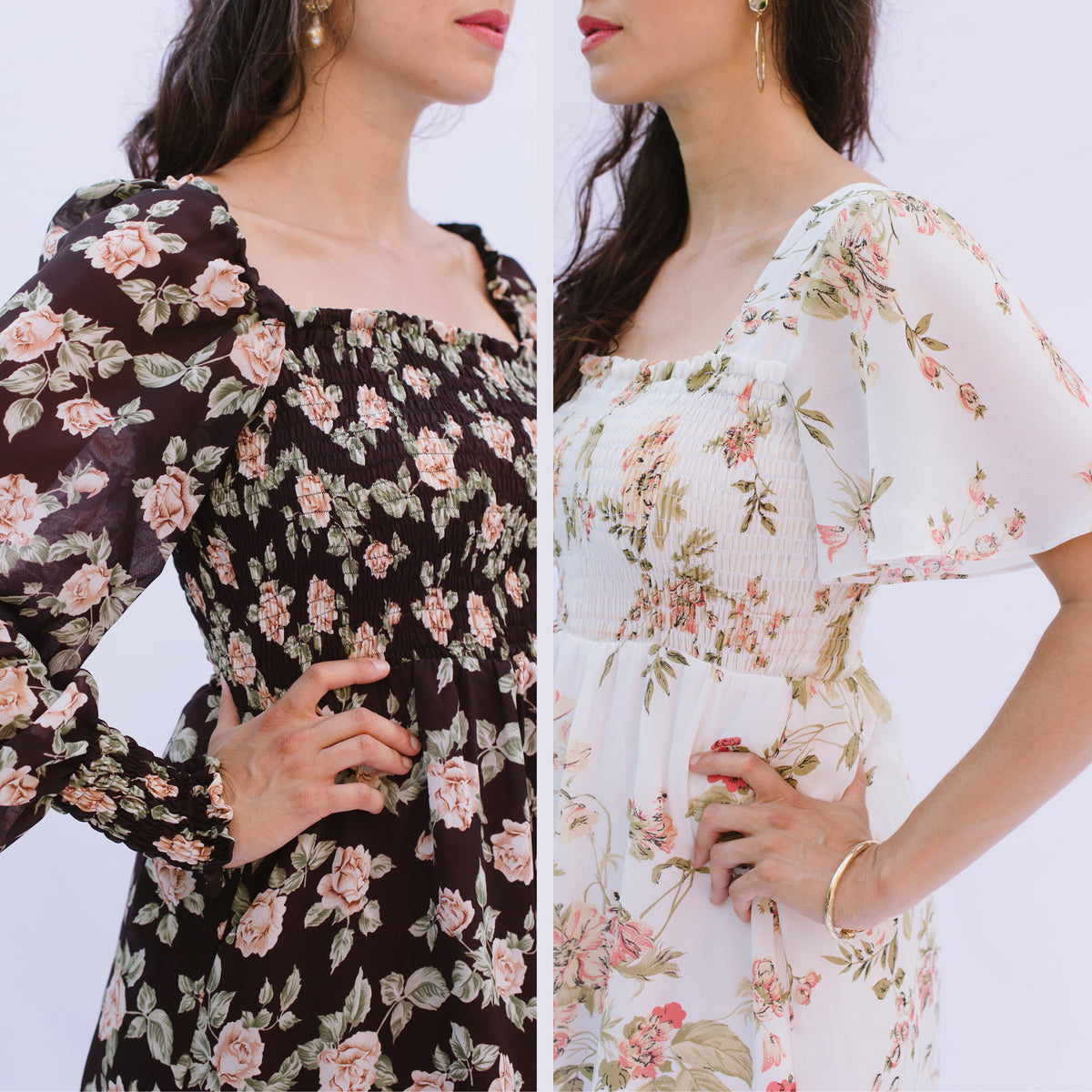 In this post, we'll discuss how to pair any of the sleeves from the Sofia pattern with the strap from this Bell sleeve. This is a popular pattern modification to give extra bra strap coverage.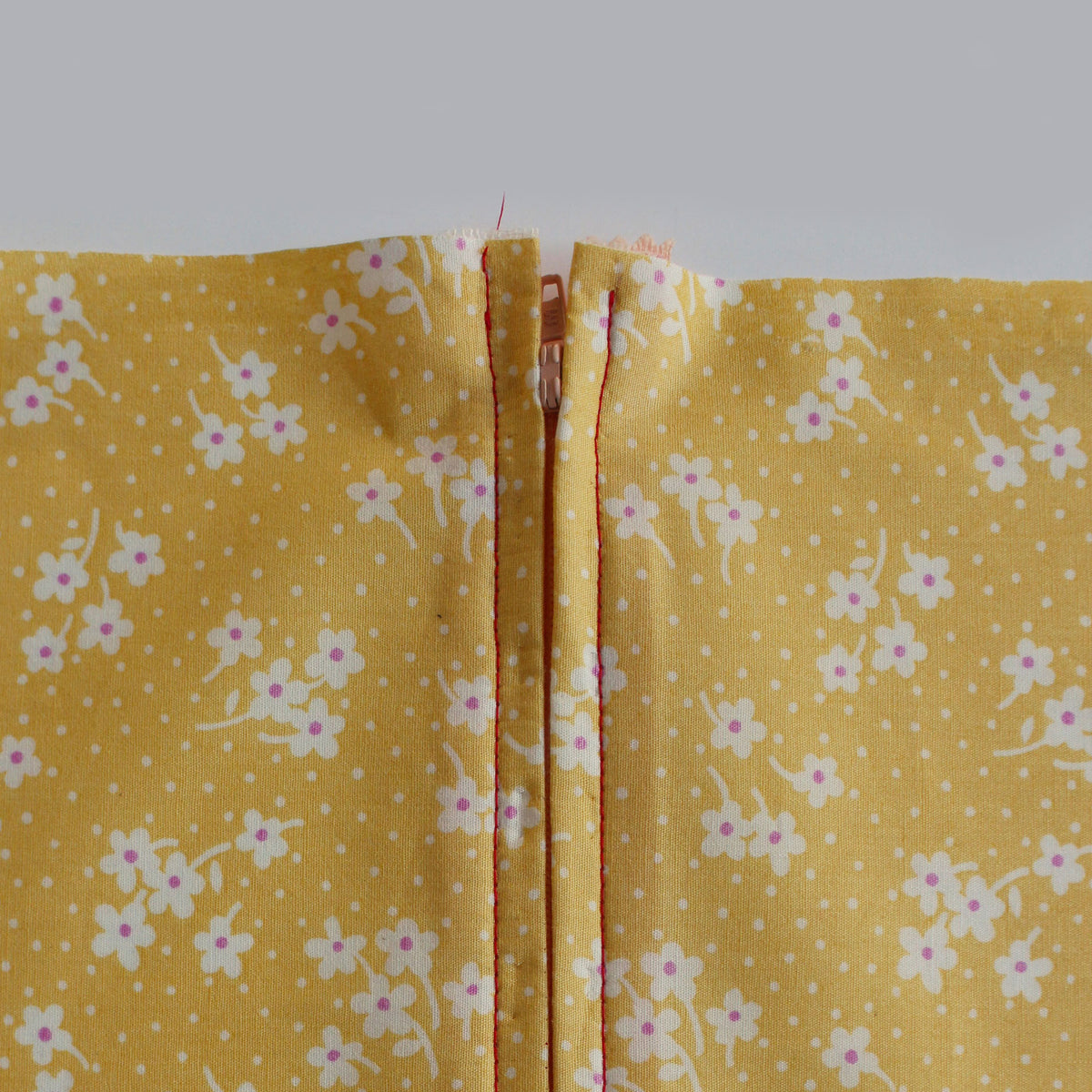 A centered zipper is one of the most usefull zippers to be able to sew. They are commonly used in skirts, dresses, and pants, as well as cushion covers and handbags. In this tutorial, we'll show you how to sew a centered zipper using directional sewing, which avoids the fabric from shifting in different directions once the zipper is sewn in. 
Last week I released the Rowena pattern and I wanted to pull together some inspiration and fabric resources to get your wheels for this project.