Lola Sewalong: Cutting
It's time to cut out your Lola! Let's go over everything you need to know as you prepare for this important part of the project and get you on the road to sewing this lovely up!
We'll talk about a few sections in the pattern instructions that serve as guides in helping you cut out the project, along with some further details about those sections. You'll also learn a few extra tips for cutting, pinning, and notching. 
Just a reminder before cutting out your fabric, make sure it has been pre-washed and dried to prevent shrinkage.
Your Pattern Pieces:
In your pattern, you'll find a section called pattern inventory and cutting layout. The Pattern Inventory will show you all of the pieces that need to be cut out for this project. It's a handy place to refer to if you need to take a quick stock of your pattern pieces, making sure you've gathered them all together and aren't missing anything. 
Choosing Your Cutting Layout:
There are two cutting layouts given in the Lola pattern. To determine which layout to follow for your project, you must first measure the width of your fabric. Then, keep in mind your chosen size; If you have graded between sizes, it's safest to choose your layout based on the largest of the sizes in your "grouping."
If your self fabric is 54" (137 cm) or less, you can use the first layout given in the instructions.
I noticed that there are lots of sweater knit fabrics that are 60" in width. These few extra inches can change to pattern layout possibilities, so if your fabric is 60" wide, and you between size 14-16, use the first layout given in the instructions
If your fabric is 60" width and you are between sizes 0-2, use the second layout provided in the instructions.
For ribbing, there are many widths of fabrics available out there. As with the self layouts, find the cutting layout that best corresponds with your fabric's width, and your selected size. Keep in mind that due to the variances in widths, there are two versions of piece L.
L-1 is used if your fabric width can accommodate the size of your piece. For L-1, since it is cut on fold with two layers of fabric, you will only need to cut the piece once on the fold.
L-2 is used for more narrow fabrics, and the L-2 piece is cut two on a single layer of fabric.
Fabric Layout:
Lay your fabric wrong sides together, matching selvage edges. It's always best if you can align the selvage edges to another straight edge. , such as the edge of your table; This will help to "align" your grainline of your fabric. If your selvages were uneven, the grainline of your whole piece is off.
Once the fabric is laid out and straightened neatly, it's time to place your pattern pieces. 
As always, the cutting layouts in the pattern is a suggestion. If you can find a better layout, if, for example, your fabric is a bit wider, then, by all means, you can create a different pattern placement. As you place your pattern, consider the following things:
Your pattern pieces must fit while economizing on your fabric as much as possible.

Each pattern piece has a grainline that is perfectly parallel to the selvage edges.

For layout 1, pieces that have an "on fold" grainline are aligned precisely at the folded edge.

For layout 2, pieces that have an "on fold" grainline is placed once with pattern right side facing up. The piece will be traced in this position. Mark a notch in chalk at the upper and lower centre edge, then flipped so that the pattern is facing wrong side up, indicated by grey pattern piece. Align the centre edge to the centre chalk notch markings, and retrace the piece. For these pieces (A and G), you will only need to cut one layer of fabric.
Pinning, Cutting, Notching:
Pinning:
When I'm working with spongy fabrics like sweater knit, I like to pin my pattern to the fabric, rather than using pattern weights. Weights can often sink into the fabric and lift the light tissue off, making it hard to cut precisely. When pinning the pattern pieced down, the pins should be parallel to the pattern edge, and about 1/4" (6 mm) away from the edge.
Cutting:
When you're ready to cut, using very sharp fabric scissors is key to getting a precise cut. As you cut, be as accurate as you can by getting as close to the pattern edge as your cutting ability allows, but be kind to yourself if it's a little bit off. Knits are very forgiving ;) 
Notching:
Make sure that you notch all of your pattern pieces, as this will help you to align your pattern pieces as you sew. When cutting any pattern piece on the fold, cut a notch at the centre folded edge; This will be handy to align pieces at the centre as you sew.
Also, in case you didn't know, single notches represent front pieces, and double notches represent back pieces. Make sure to pay attention to how many notches are specified at various parts of the pattern.
It is helpful to cut notches at the folded edge,which marks the centre for pieces that have  been placed on fold. 
There are two camps when it comes to notching: notching out/away from the pattern, or cutting into the pattern.
I'm in the camp of cutting into the pattern, as it doesn't disturb my flow of cutting by having to cut small triangles as I go. I like to cut the pattern, then go in and notch in afterward.

Lola has a small 3/8" (1 cm) seam allowance. If you're new to sewing with knits, this may be a time where notching away from the pattern would be easier for you. That being said, when I cut notches for patterns with a small seam allowance, I'm very mindful of cutting short/small snips, no longer than 1/4" (6 mm) deep) along the edge, after I cut out my pattern.
I wanted to mention both options to you, and you can choose what feels right to you.
The notch example on the left shows a notch cut into the fabric. This notch is made by cutting a small snip into the fabric, no longer than 1/4" (6 mm) deep. Inward notches are snipped after the pattern piece has been cut.
The notch on the right hand side is cut away from the fabric.
Next Post:
That's about it for cutting your Lola pattern!  Join me in out next post on Sunday, November 24th when we get you ready for sewing with stretch! 
YOU MAY ALSO LIKE:
Leave a comment
Comments will be approved before showing up.
---
Also in The Victory Patterns Blog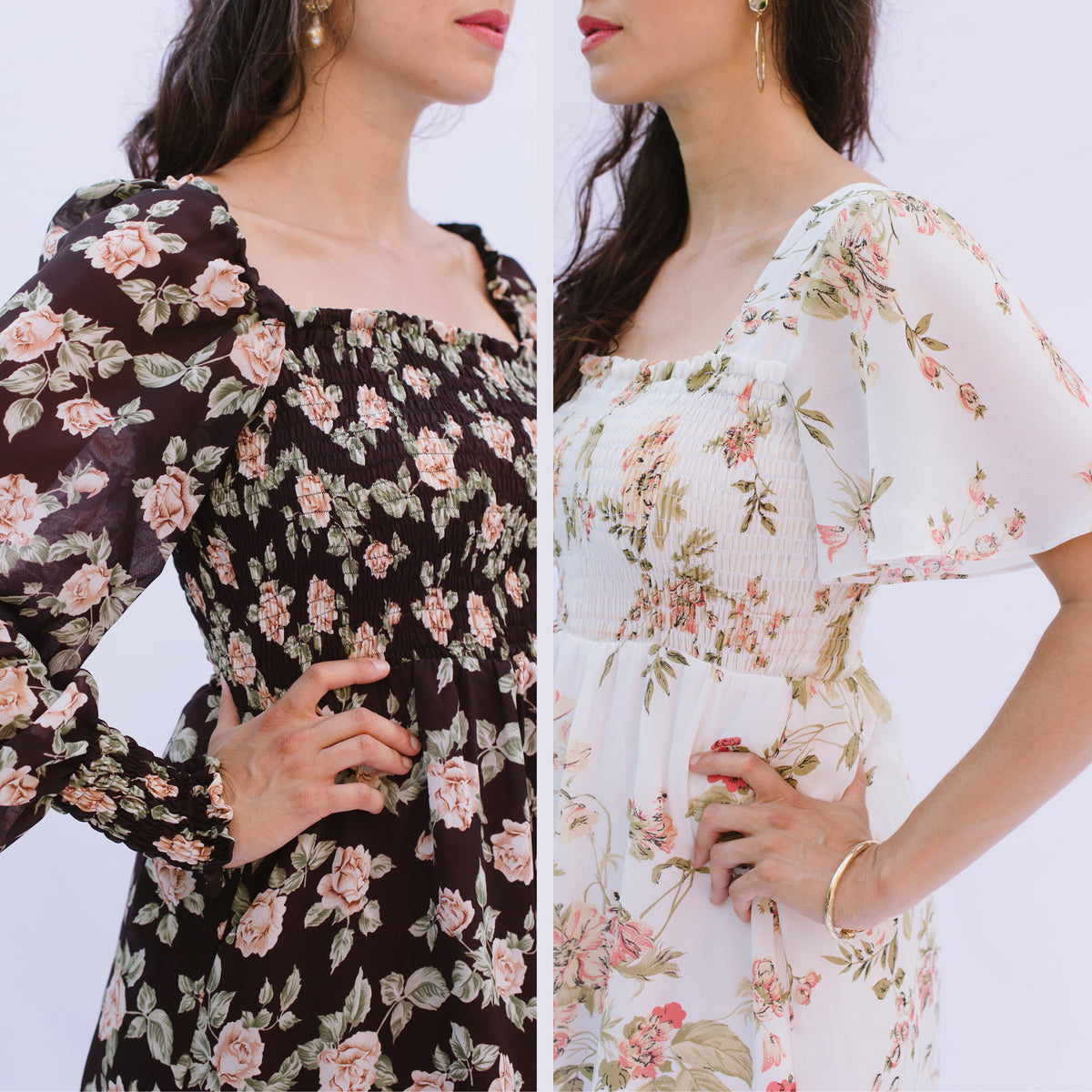 In this post, we'll discuss how to pair any of the sleeves from the Sofia pattern with the strap from this Bell sleeve. This is a popular pattern modification to give extra bra strap coverage.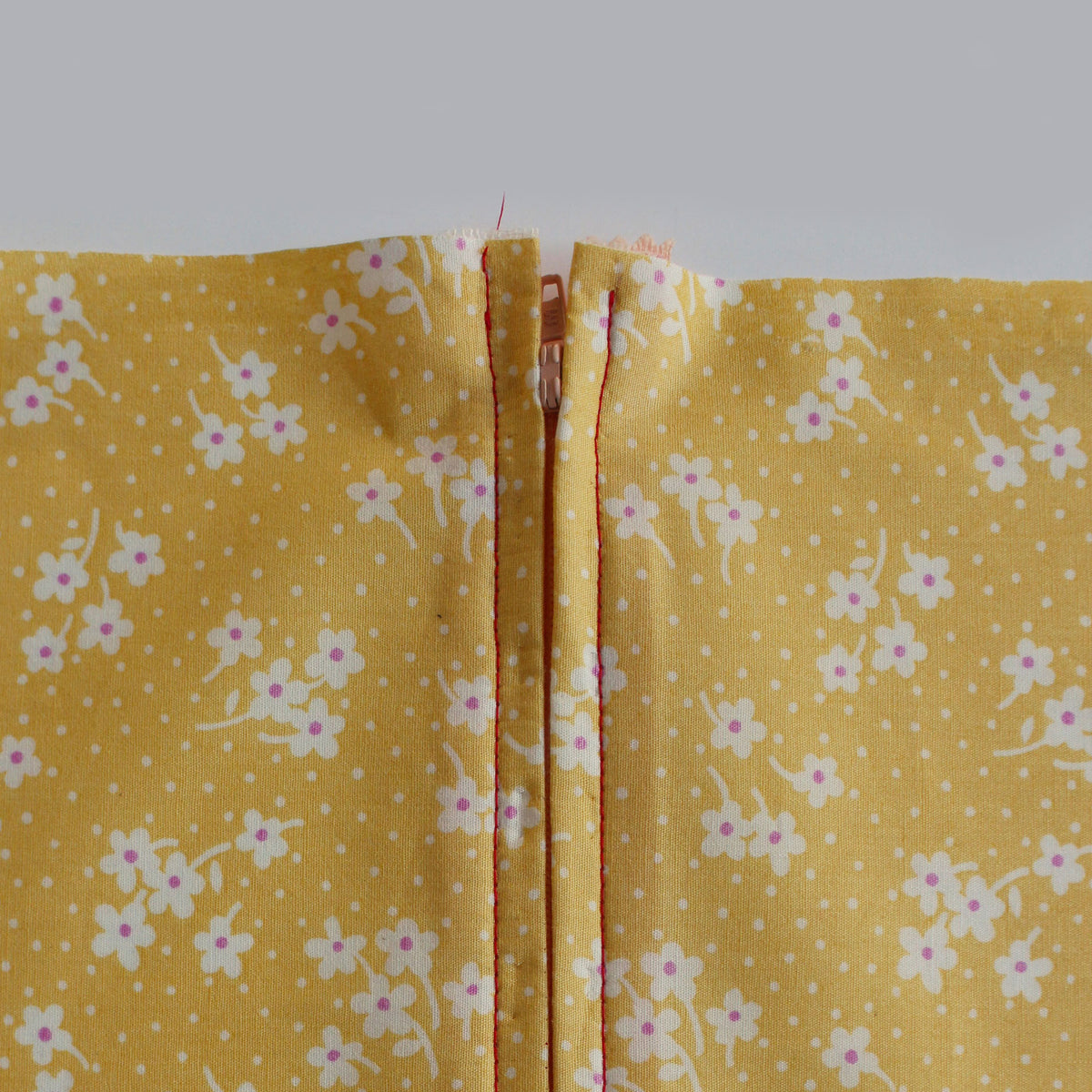 A centered zipper is one of the most usefull zippers to be able to sew. They are commonly used in skirts, dresses, and pants, as well as cushion covers and handbags. In this tutorial, we'll show you how to sew a centered zipper using directional sewing, which avoids the fabric from shifting in different directions once the zipper is sewn in. 
Last week I released the Rowena pattern and I wanted to pull together some inspiration and fabric resources to get your wheels for this project.