The Making of Boundless Style
I opened my inbox to dreamy email back in 2013 from an acquisitions editor at a publishing company asking if I would be interested in writing a book on sewing techniques and sewing patterns. My immediate reaction was "YESYESYES!" since it was a lofty dream I'd had. After calming down, I told myself I would only do it if I could think of something unique and useful to readers. Then I remembered this idea for a project I had in mind and wanted to explore for some time; I thought it might be just the right thing for this book. I had no way of adequately wrapping my head around just how much would be involved in this project, or all of the implications writing a book would have on my life/business. I didn't over analyze it; I just jumped in head first. Thank goodness because had I know, I might have been too scared!

The idea I pitched to the publisher involved mixing a bunch of pattern pieces so that the reader could be a part of the design process. I've always wanted to create a project that allowed you guys to have a choice in your design, and I thought that doing it in the form of a book would be amazing. I keep seeing you guys create incredible pattern mash-ups of your favorite design elements from various patterns and I figured you'd have fun with something that made mash-ups a little more methodical and simplified. So, in the end, we settled on a mix and match pattern concept with 15 interchangeable patterns.

Designing the modular pieces was a fun challenge and a great learning experience. It's a bit different from developing one-off designs, as everything has to align correctly and work cohesively from an aesthetic point of view. This provided some limitations, but working within a confine creates new possibilities that you may not have thought of before. For the design to be selected as "the one," you have to the think ahead to how it will be constructed, making sure that none of the pieces will call for special treatment in construction, as in the end, the final instructions that tie everything together must be uniform. This was one of the trickiest parts, and since it was the first step of the bookmaking process, it meant anticipating any challenges that could occur, as there was no going back on these designs.
I decided to make a collection of twenty-one garment combinations to showcase the design possibilities. It was fun for me to pick which pieces to combine and I tried to take a balanced approach to making sure to use each component in equal proportions. Then, choosing fabric was another journey. I sourced from a handful of shops in Toronto, using lots of dead stock vintage florals buried deep underneath piles of bolts and designer ends from various studio around town.

Just a tip: Designer studios are great for sourcing fabric if you have local designers near you. Ask them if they have fabric sales, or if you can book a time to come into source some of them. They're usually happy to get unused yardage from past collections off their hands.

I know picking fabric is often people's favorite part, but I dread it. I spend way too much time making selections because it's so hard to align what you have access to, to what's in your head. But after the huge treasure hunt, I'm so happy with how it all worked out.
The editorial shoot was hands down the most rewarding and fun part of the process. Being able to choose a team of super talented people that I love working with, seeing the garments come to life and having the image of the book begin to take form is so exciting. As usual, I chose to make life a little crazy, so we opted to pile the clothes into bins, trail everything behind bikes and trek around an island that is only accessible by boat for a two day, outdoor shoot. This, over a warm, indoor studio with a steam iron with hot coffee. I can't even begin to describe what an adventure it was, but it was two of the most memorable days ever. It feels amazing to have worked so hard for something and then have a team of people show up in full support of your crazy idea, and make it all a dreamy reality. I couldn't be happier with the results!
I wanted to take full advantage of full-color pages, which meant photographing every step of the construction of each piece. WHAT WAS I THINKING?!!!  I was offered the opportunity to fly to the publisher's studio in Cincinnati to shoot the step-by-step instructions with their photographer, but in the end, I decided to shoot it myself in my own studio. Given that I wanted every step of construction to be photographed, with the number of photos that would need to be taken, there was no way it could be done in the one week allocated for the Cincinnati shoot. So we set up an overhead camera on my drafting table, tinkered with lighting, chose solid colors to easily see the construction details, and set to work on the instruction images, documenting the text instructions as I worked. A handful of physiotherapy appointments later to look after my hunched back, it all worked out in the end. 
Once my content was finished, and all of the pattern files developed, off everything went to the publisher for editing, and then to my graphic designer for book layout. We wanted to keep the book as fresh and simple in layout as possible to let all of the information and the designs breathe. There was lots of back and forth with the content, loads of editing, and then, one day, it was finally done! It's now almost 2016, and the book is real, on shelves, popping up on your Instagram feeds and blogs, I see your designs on the Lookbook site, and it all feels amazing!
When I look at the book now, it's sort of a photo album of memories from an incredible and intense journey. It was a wild time, and it makes me pretty emotional and pretty happy to hold it in my hands; it's great to share it with you. Thanks to everyone who has bought a copy and shown support! I hope you love it and I'm dying to see what you make!

To design your own garment using patterns from Boundless Style, visit Lookbook, our mix-and-match pattern app.

To order a copy of the book, visit our shop.
(You will be redirected to the Interweave shop, where you can take advantage of more affordable shipping than what I can provide here in Canada. Purchasing through this link will also provide you with a digital link to the patterns.)

If you have purchased the book from another source and would like access to the digital link, get in touch with me through my contact form.

If you'd like to lend some super support, I'd be so grateful if you left a review of the book on one of the following sites where

Boundless Style is sold:
Thanks so much!!!
_
YOU MAY LIKE:
Leave a comment
Comments will be approved before showing up.
---
Also in The Victory Patterns Blog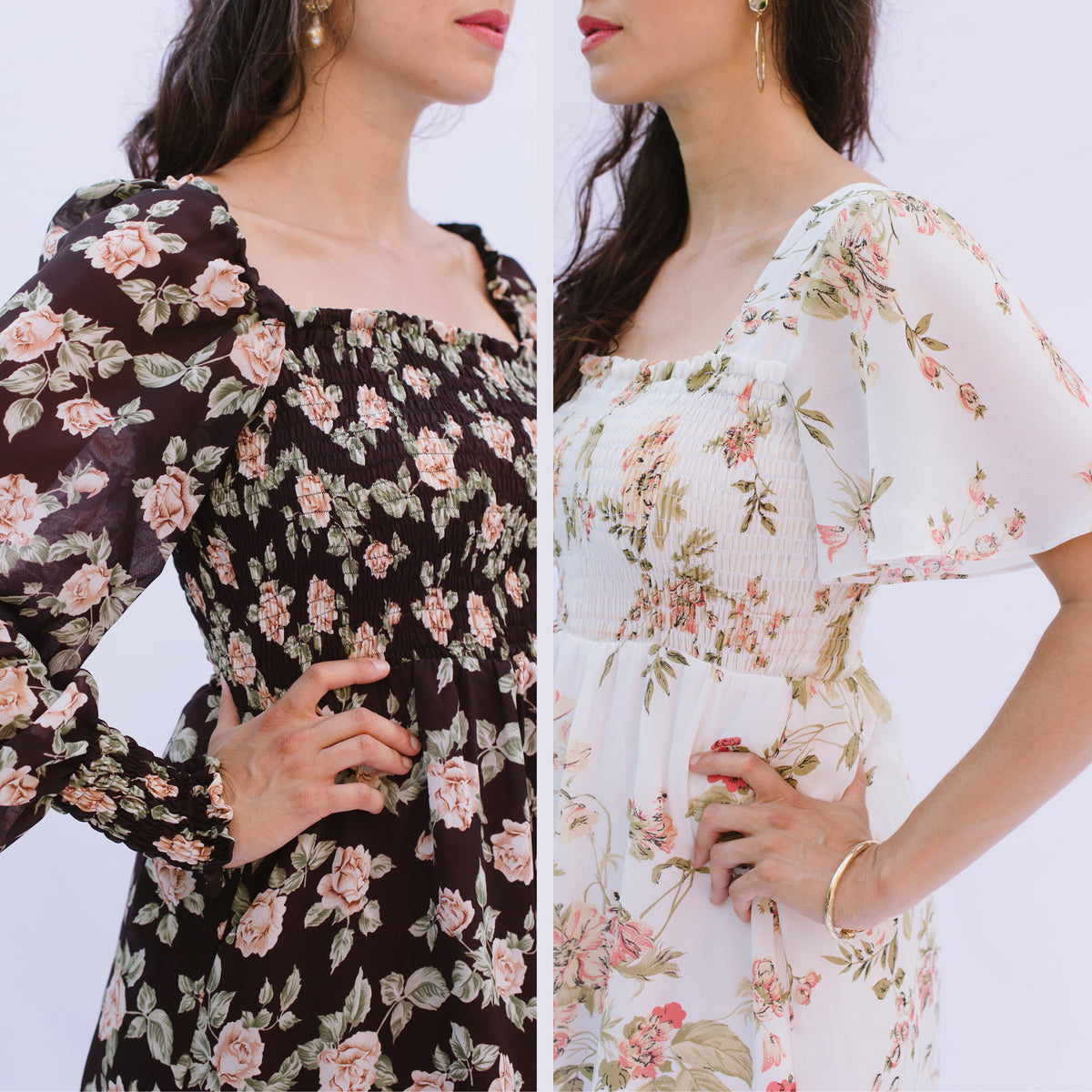 In this post, we'll discuss how to pair any of the sleeves from the Sofia pattern with the strap from this Bell sleeve. This is a popular pattern modification to give extra bra strap coverage.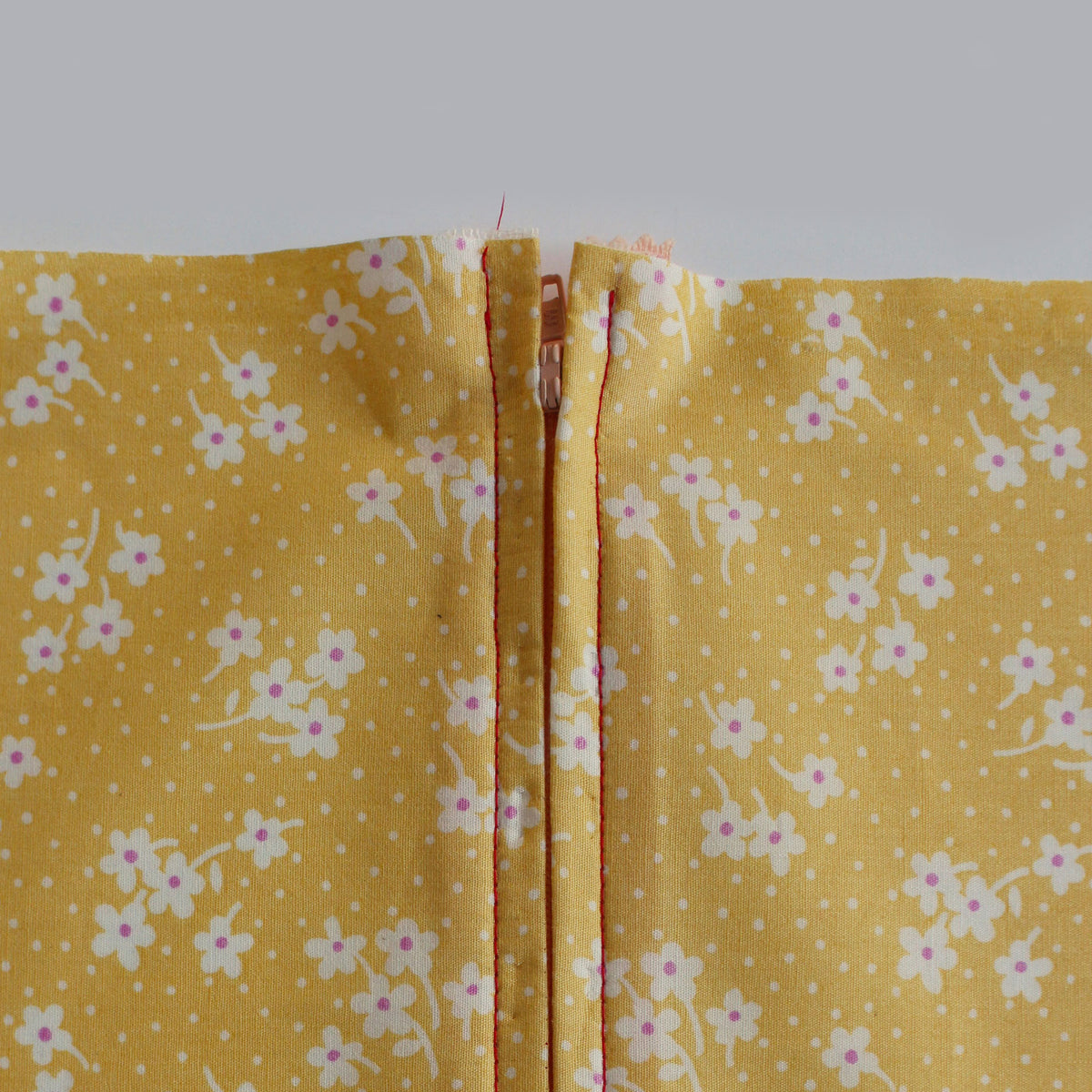 A centered zipper is one of the most usefull zippers to be able to sew. They are commonly used in skirts, dresses, and pants, as well as cushion covers and handbags. In this tutorial, we'll show you how to sew a centered zipper using directional sewing, which avoids the fabric from shifting in different directions once the zipper is sewn in. 
Last week I released the Rowena pattern and I wanted to pull together some inspiration and fabric resources to get your wheels for this project.