The memory project
Clothing can hold a meaning more profound than its original intended purpose of style or protection; it can tell stores of our past. "The Memory Project" is a beautiful art piece created by Anna Zygowski, who is a fashion and textile designer currently working on her masters in fashion design (awesome!!!). In this project, Anna shares intimate moments in the lives of her family through garments that they once wore. This storytelling takes place through incredible and nostalgic textile exploration.
Anna, as you may remember from a recent post, has been working with me on a new line of patterns, and is a constant source of inspiration and amazing stories. She has a fascinating family history, which is what inspired this project.

I am in love with Anna's work not only because these pieces are STUNNING! But also because I love that beyond the creativity, nostalgia, and beauty of each print, there is a rich, sweet, touching, and sometimes sad story behind each one. There is a personal intimacy in each piece. It is so rare to create clothing with such meaning and integrity.

Ok, I've said enough. Take it away, Anna....

What area of fashion are you exploring for your master's degree? What lead you to this?

My area of interest lies in that place that exists between cultural attitudes about the body and behavior, and the sewn garments that support those attitudes. It took me a long time to understand that although fashion can be whimsical and fun, there are connections (reflected in garment silhouettes and degrees of modesty) to broader social issues like gender roles, capitalist structures, displays of wealth and nostalgia. I am focusing on Modernist designers such as Vionnet, Gres, and Balenciaga to explore how the Modernist art movement ultimately led fashion designers to change how they designed and constructed clothing. The transition between Edwardian Romanticism and Modernist Minimalism is such fantastic period and the concept that objects are built through a lens or set of attitudes which in turn influence the techniques that make the objects is an exciting one.

Can you explain and describe your memory project?

This project explores ideas about nostalgia, the ephemeral and identity construction. I took inspiration from family photographs and the premise that clothing embodies memory. I used a variety of artistic processes to distress and age fabrics to reflect what happened to clothes my family possessed or I used actual garments when possible. These were photographed using old lenses to distort and blur the images. After digital manipulation of the photographs, silk and cotton fabric was printed and made up into garments allowing for a visual interpretation of the connection that exists between memory and clothing.

What was it that made you so keen on exploring your family's garments and re-interpreting theses textiles as a foundation for your work?

For the digitally printed textile project, my families history is very much a focus. I think many people connect places, people and life events to garments. A good example is the wedding dress whose color, shape and purpose embody one significant day. Like the wedding dress, a garment worn on a particular day of importance can take on new meaning. It can signify and embody events in exactly the same way a snapshot functions: as an embodiment of particular ephemeral events. In this way, I have always been obsessed with photography and clothing. Both in their own way, recorders of time.

My family has a very rich history, well documented photographically in snapshots. As displaced persons of northern European descent, my family struggled during and after WW2 to settle. Photographs and memories took the place of geographical roots as we moved from country to country and I found family members discussing a particular moment in time in terms of the clothing worn. My own memories of childhood are rooted in sensory terms such as the food I ate, the weather of a particular country and the clothes I wore.

One day granny discussed a snapshot taken in the 1930's in Nice, France. She cited her terrible step-mother as her reason for hating her beautiful communion dress (which her step-mother bought) and which she buried in the backyard when she grew up. The photo and the dress embodied the memory of the dysfunctional family life she endured. As my grandparents spoke of dark events, family milestones and hilarious anecdotes I became more interested in expressing how and why ephemeral events are recorded and in what form those recordings can take.


Labour Camp, France – 1943
Grandmother's favorite Dress
"I was out dancing the night police arrested me. All I had when I was sent to camp were the clothes on my back. Even though it was just the labor camp, they worked us very hard, and there was not much left of the cream-colored embroidered dress I was once so proud of. When we were liberated I kept the dress in a suitcase as a reminder of that time in Nice."
Manchester, England – 1949
Grandmother's Skirt
"This was my favorite skirt. I crocheted it by hand after the war. Even though we have our hands full with twin boys, I still liked to keep neat and dress up. Of course, every now and again the boys would spit up or there is an accident, and now it doesn't look as fresh and white as it once did…"
Rochdale, England – 1965
Grandmother's Blouse
"Cristine was our only daughter. She was a bit precocious and was always getting into trouble. I made this fabric and lace top for her one summer. The first day she wore it she came home caked in sand and mud. All the lace was ruined. I have no idea what she could have been doing to get her clothes so dirty…"
Nice, France – 1945
Grandfather's Uniform

"At the end of the war, all we wanted to do was find our way back to something normal. I had enlisted in the Polish army in 1932, so I was ready to hang up my uniform and live a quiet life. However, I never really forgot all of those years. My wife would often catch me in reverie thinking of my dead brother and all the moments in which I thought I might not survive. Years later we found my jacket covered in dust and grime in the basement. I had just hung it up and forgotten about it. The dirt had seeped into the seams and left a film that would not come off."
Nice, France – 1936
Grandmother's first Communion Dress

"On the day of my first communion, my stepmother presented me with this dress and veil. She always made sure I had correct clothes and shoes; however, when father was away she wouldn't feed me. When I tried to tell him, he wouldn't believe she would do that. After the war, I buried my communion dress in the dirt. It reminded me of her and the gulf she created between myself and Father."
Leave a comment
Comments will be approved before showing up.
---
Also in The Victory Patterns Blog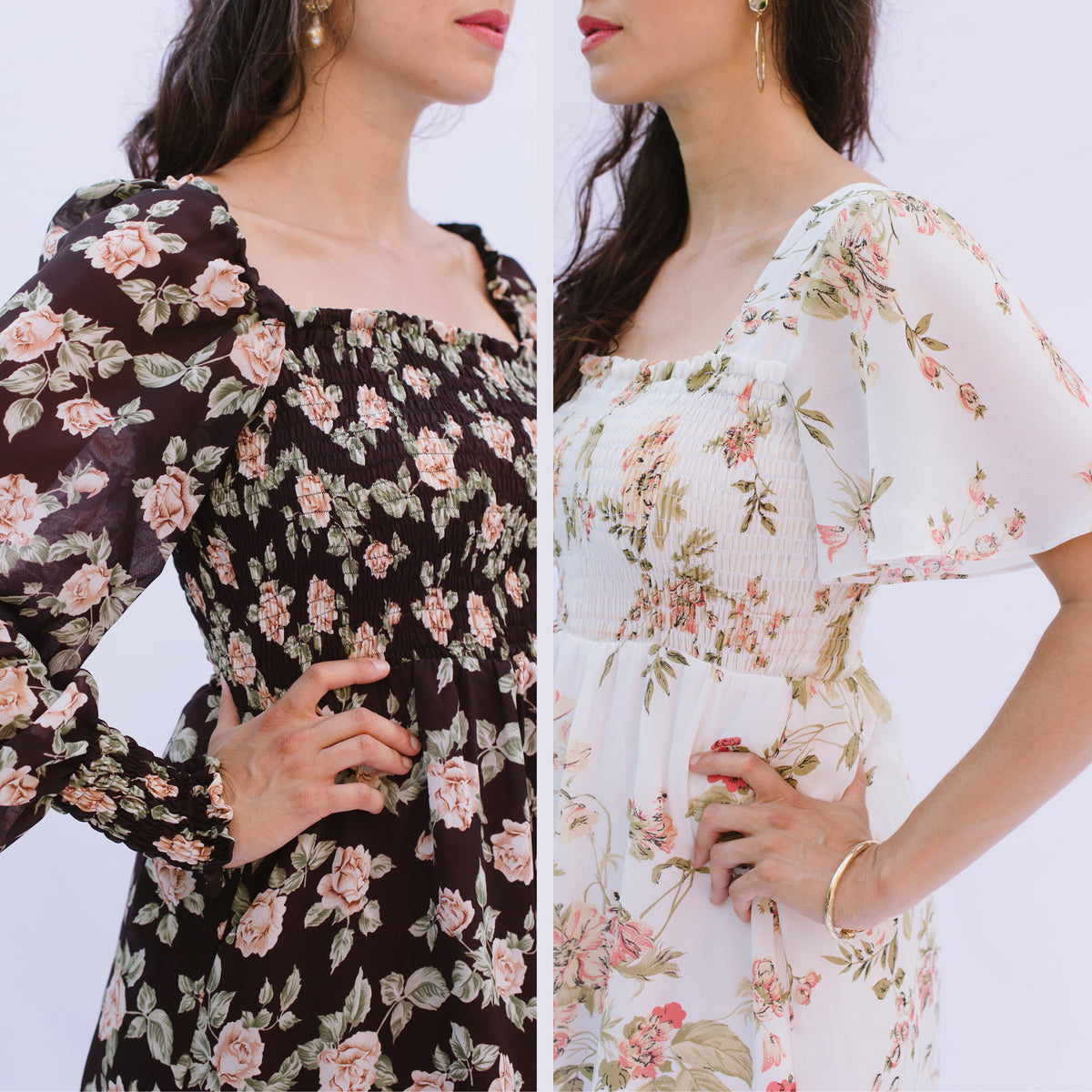 In this post, we'll discuss how to pair any of the sleeves from the Sofia pattern with the strap from this Bell sleeve. This is a popular pattern modification to give extra bra strap coverage.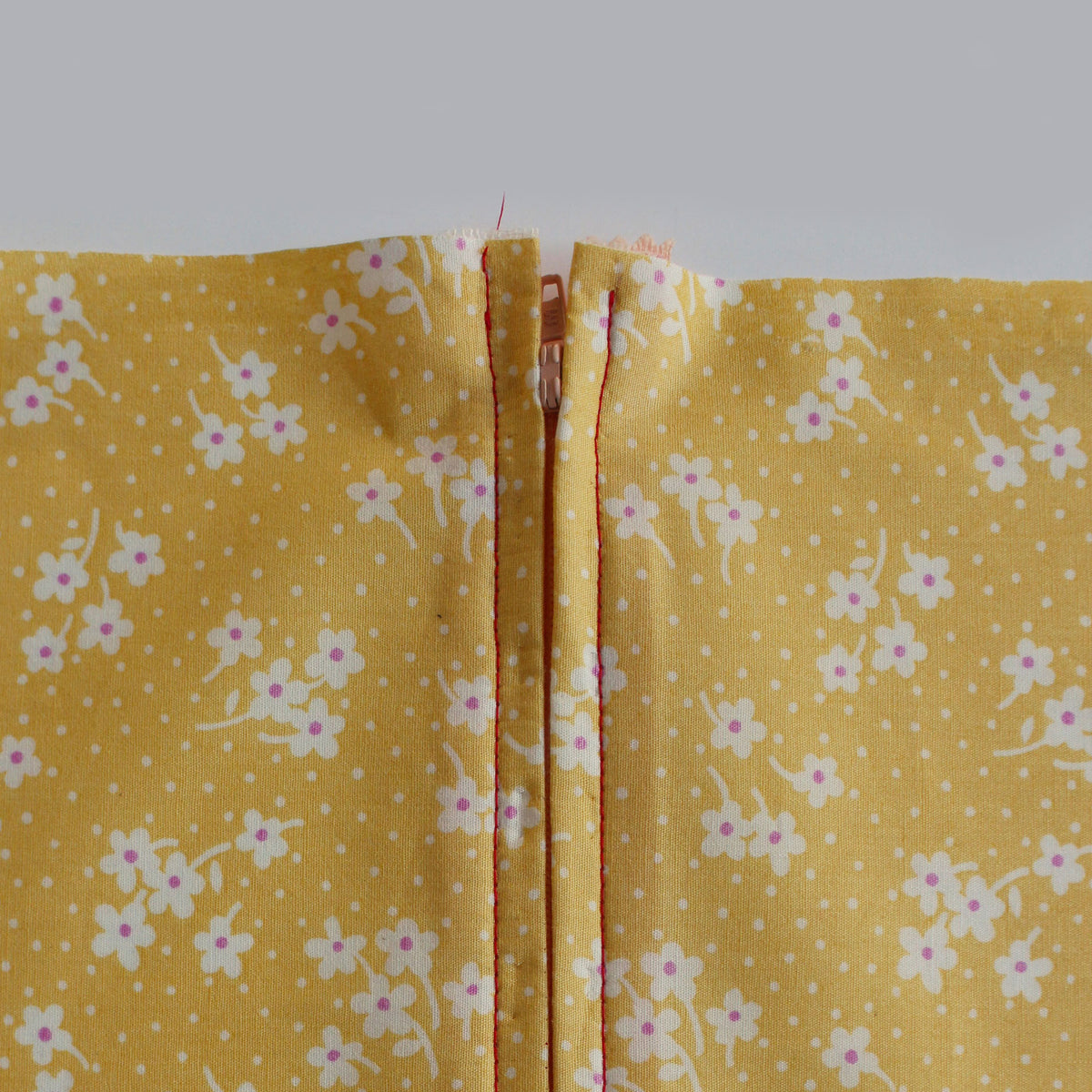 A centered zipper is one of the most usefull zippers to be able to sew. They are commonly used in skirts, dresses, and pants, as well as cushion covers and handbags. In this tutorial, we'll show you how to sew a centered zipper using directional sewing, which avoids the fabric from shifting in different directions once the zipper is sewn in. 
Last week I released the Rowena pattern and I wanted to pull together some inspiration and fabric resources to get your wheels for this project.