Introducing Rowena
After a beautiful maternity leave spending precious time with my little one, I'm really excited to step back into pattern land to release a new pattern! I have to admit, after creating the Sofia pattern I've falling in love with shirring and I wanted to incorporate the technique in another pattern. Shirring is so fun to sew and makes for such easy flexible fit. It instantly makes a garment so comfortable and easy to wear. So with that, today I'm releasing the Rowena Jumpsuit and pants and I'm so excited to share it to you. 
The Rowena pattern will be on sale with 20% from today until
Sunday, July 31st
The discount will be automatically applied. No code is needed at the checkout.
Pattern Features:
Rowena is a jumpsuit and pants pattern with a very relaxed fit. It boats a touch of elegance while still lending itself to everyday wear. The pattern offers two versatile pieces that will be a beautiful and classic addition to your wardrobe.
Rowena Jumpsuit | View A
The jumpsuit features wide elbow-length, grown-on sleeves and overlapping front and back bodice panels that create a V-neckline. The front bodice features two released pleats at the bust, and a tie secures the back.
Rowena Jumpsuit | View A
Front bodice detail
Rowena Jumpsuit | View A
Back bodice detail
The sweeping wide-leg pants can be made in a full and cropped length. The extra-wide pant hem adds weight to this wide-leg style. Both views feature slash side pockets. A shirred waistband provides a flexible fit and a flattering textural element. There are no complicated closures, allowing you to slip right into both styles. 
Rowena Pants | View B
Waistband shirring detail
Full Size Range:
Rowena Pants & 
Jumpsuit
 | View 
A & B
Fabrics:
We recommend medium to light weight woven fabrics with a soft drape. We love linen, crepe, chambray, tencel or silk.
Rowena currently comes in two size ranges: 0-18 and 14-30 and is available in  PDF format. 
You can view the size and fabric charts for sizes 0-18 here and sizes 14-30 here.
The Shirring Technique:
Shirring is a fun sewing technique that uses elastic thread in the bobbin to produce a gathered affect while creating a large amount of stretch in the fabric.
The pattern includes a very comprehensive guide on how to sew shirring. We have also made a very in depth video after the release of our Sofia pattern that covers everything you need to know about this sewing technique. Make sure to check it out! 
Sewing Level:
Rowena is rated as an intermediate pattern. As with any project, this is just a suggestion and I would encourage anyone who isn't at this sewing level to take on this project if you're feeling like learning new skills. Stay tuned in the coming weeks for the sewalong which will give you extra guidance in sewing this pattern! 
Thanks for taking a look at Rowena with me. Don't forget, Rowena is 20% off now until Friday (July 29th, Midnight, EST). The discount will be automatically added at the checkout.
I hope you enjoy this pattern as much as I do!
Happy sewing! 
1 Response
Leave a comment
Comments will be approved before showing up.
---
Also in The Victory Patterns Blog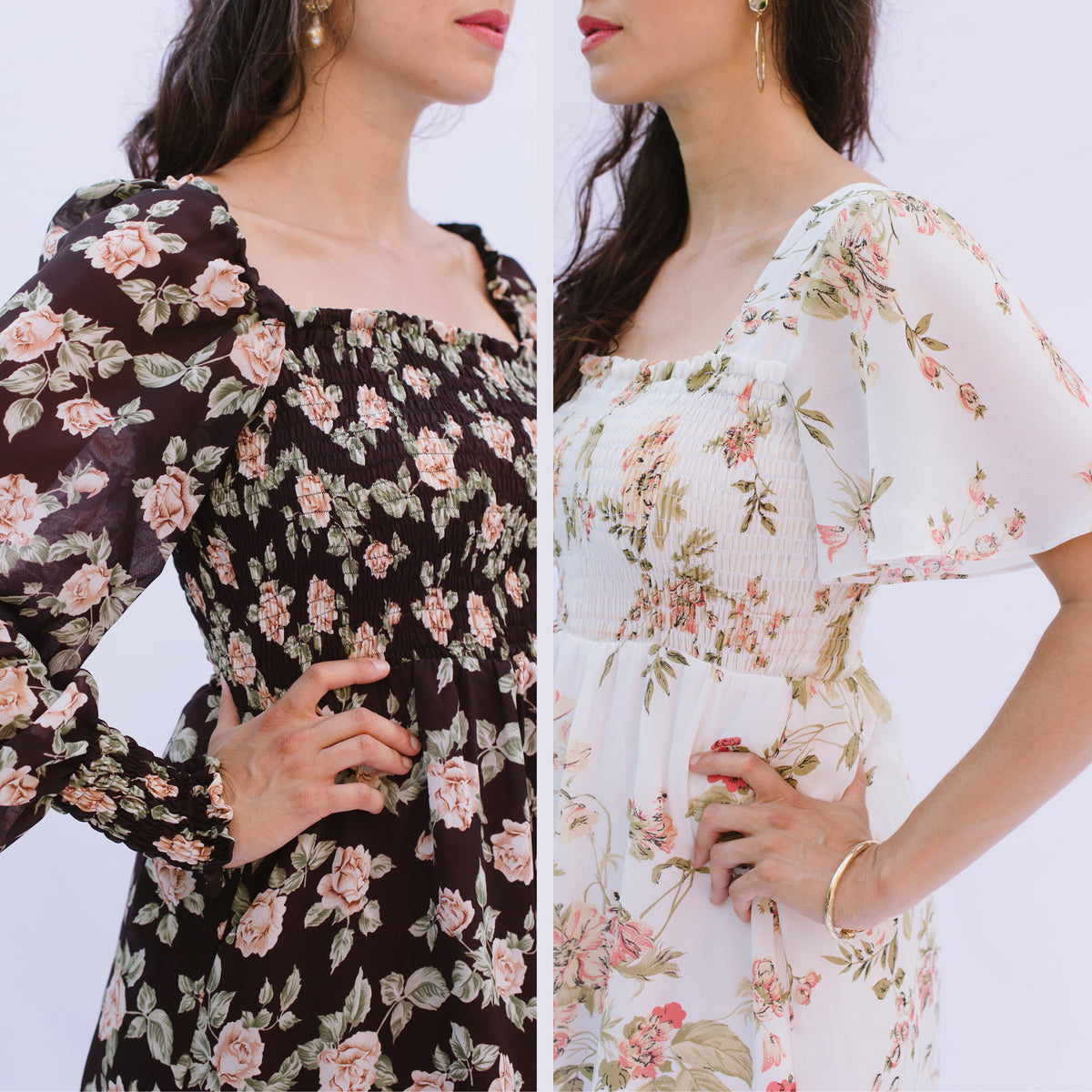 In this post, we'll discuss how to pair any of the sleeves from the Sofia pattern with the strap from this Bell sleeve. This is a popular pattern modification to give extra bra strap coverage.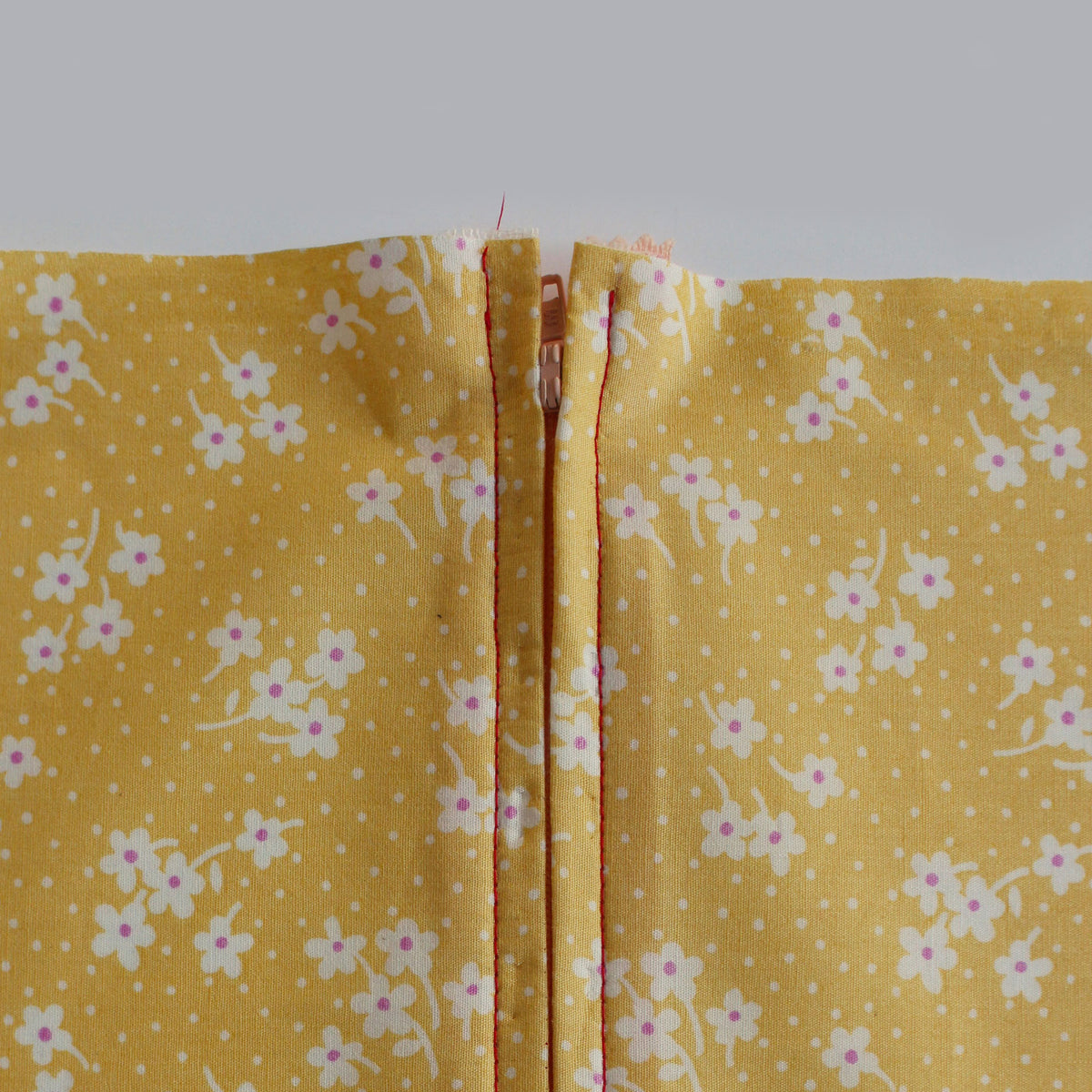 A centered zipper is one of the most usefull zippers to be able to sew. They are commonly used in skirts, dresses, and pants, as well as cushion covers and handbags. In this tutorial, we'll show you how to sew a centered zipper using directional sewing, which avoids the fabric from shifting in different directions once the zipper is sewn in. 
Last week I released the Rowena pattern and I wanted to pull together some inspiration and fabric resources to get your wheels for this project.