Sofia Inspiration & Resources
Last week I released the Sofia pattern, and I wanted to pull together some fabric inspiration to get your wheels turning on some fabrics you may want to consider for this project. I also wanted to share some resources for the elastic thread needed for the shirring technique.
In case you haven't grabbed your pattern yet, take a look at Sofia here.  
INSPIRATION & FABRIC SOURCES:
I love this style in small to medium floral or small abstract prints, solids, or gingham. I've added some inspirational images here to get your mind churning on the look and feel that you may want for your dress, and below. I've selected several fabrics from a few online stores that I love that I think will works great with Sofia.
These fabrics are suggestions, and you should keep your referred fabric weight and fiber content in mind as you go through this list. Sofia works best with lightweight fabric with a soft drape such as cotton, broadcloth, rayon, silk, linen, single gauze, or crepe. 
Gingham
Solids 
Prints
 Fabric Sources: 
To shop the fabric, click the corresponding description below the image.
Scribble Spot Viscose Crepe / Painted Floret Crepe / Sepia Rose washed linen
SHIRRING ELASTIC:
I wanted to link you to some elastic thread, in case you don't have any luck in your local fabric shop, as I know anything related to elastic has become a hot ticket item these days.I also wanted to point out a few things to consider when buying and sewing with elastic thread.
Quantity
The amount of thread you'll need depends on the size of your elastic thread spool along with the garment size. For sizes 0-22, You will need at least 2 spools of thread (based on a 20 meters/spool), For sizes 24-30, I'd suggest three spools (based on a 20 meters/spool).
May sure to check the spool quantity. It is possible to purchase spools with a larger quantity thread, in which case one spool will be enough. If you buy a smaller spool, you will need to double your thread quantity. 
Not all thread is created equally:
You will find various thicknesses of thread, and various qualities as well. A poor quality thread, for example, will cause the elastic to snap mid-stitch. If you are having this issue, try reducing your thread tension, which will help to relax the stretch.
Threads that are thicker will likely have a stronger, tighter stretch. Thread that are thinner will produce a lighter stretch.
Consistency:
I'd suggest using the same elastic thread brand throughout the garment since the stretch will differ between thread, which affect the look of the shirring, as well as the fit. 
Colour:
You'll mostly find black and white elastic thread, but it's not a concern as you don't see it on the right side of the garment. Gutterman carries some neutral tones, and I've found a variety of colours from Pacific Trim (linked below, however this is a thinner elastic).
Thread Sources:
Canada
Wotever (Toronto)
Spool of Thread (Vancouver)
Diane's Creative Elements (Sturgeon Falls)
The Fabric Snob (Manitoba)
US:
Pacific Trims (This thread is thinner. They carry a wide range of colours in their elastic thread selection) 
UK:
Aus:
I hope that these resources are helpful to you, and that found some fabric ideas that you love! I can't wait to see your project all sewn up!
YOU MAY LIKE:
Leave a comment
Comments will be approved before showing up.
---
Also in The Victory Patterns Blog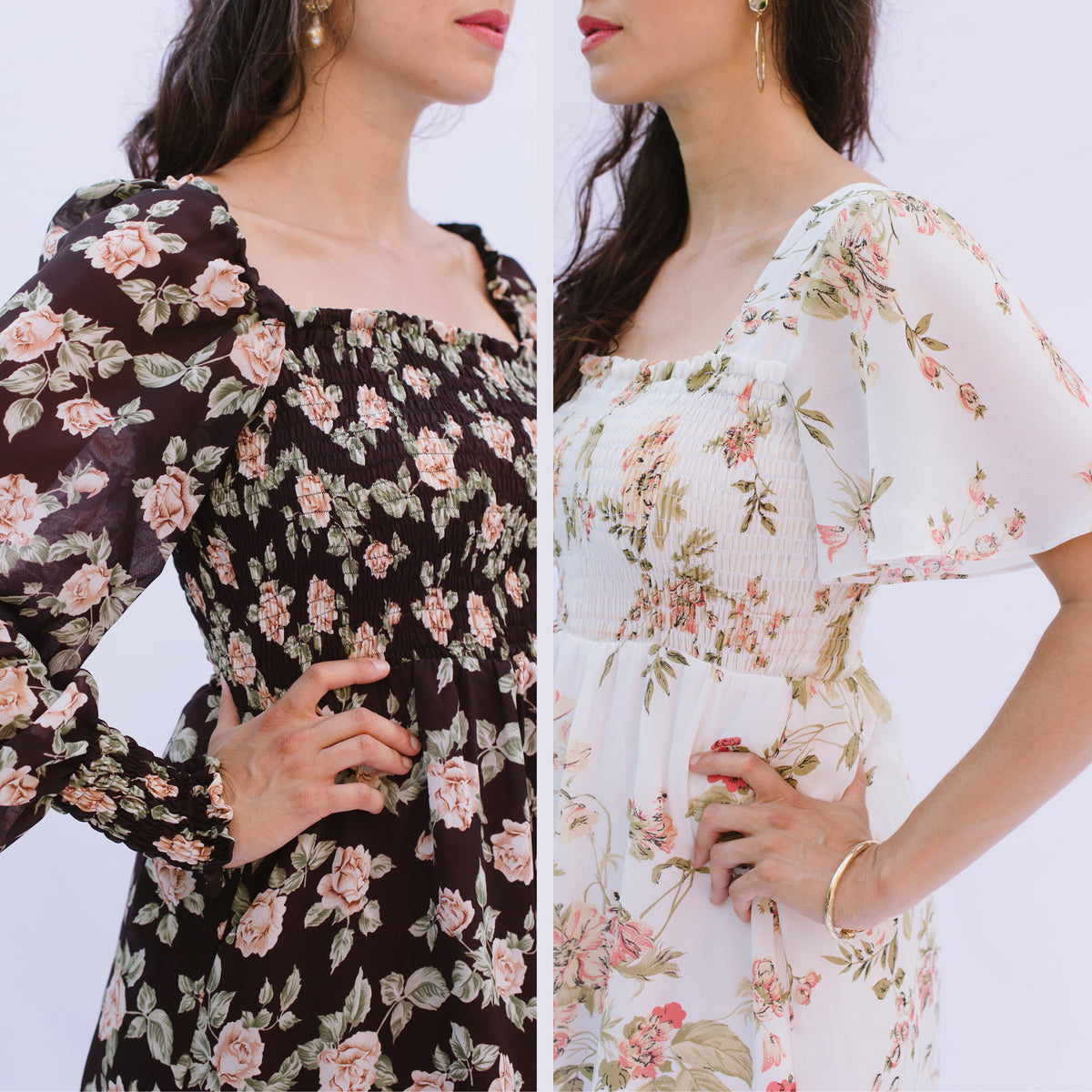 In this post, we'll discuss how to pair any of the sleeves from the Sofia pattern with the strap from this Bell sleeve. This is a popular pattern modification to give extra bra strap coverage.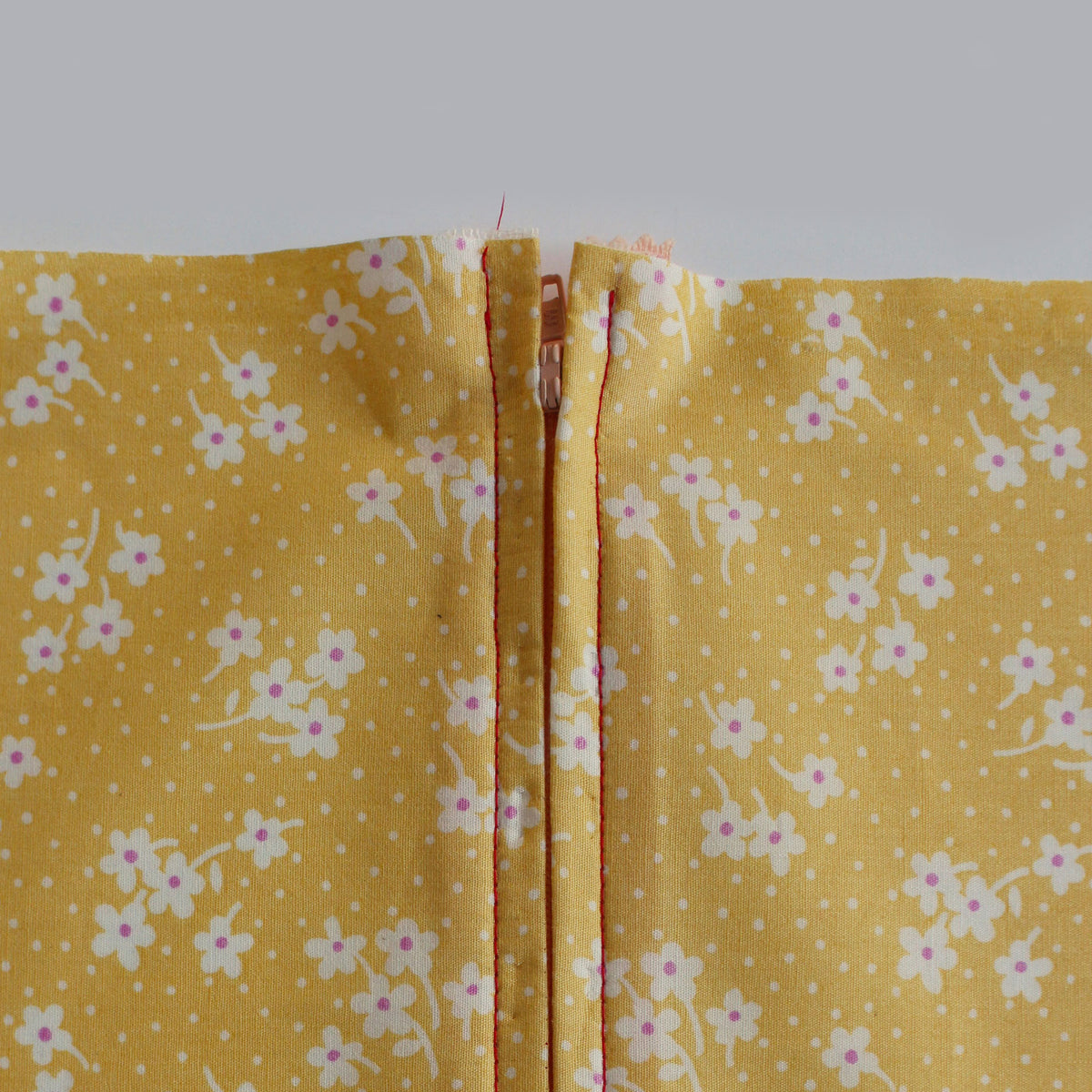 A centered zipper is one of the most usefull zippers to be able to sew. They are commonly used in skirts, dresses, and pants, as well as cushion covers and handbags. In this tutorial, we'll show you how to sew a centered zipper using directional sewing, which avoids the fabric from shifting in different directions once the zipper is sewn in. 
Last week I released the Rowena pattern and I wanted to pull together some inspiration and fabric resources to get your wheels for this project.